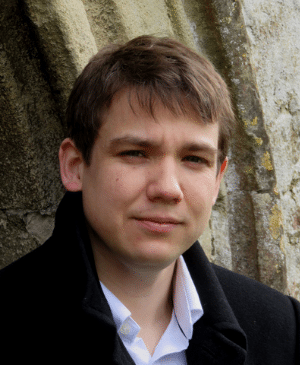 James is a novelist, medieval scholar and writing tutor. A professional writer since 2010, he is the author of both commercial and literary fiction. His four published novels are all set during the Norman Conquest of England.
His debut title, Sworn Sword, was published in 2011 and followed by two sequels. His most recent novel, The Harrowing, was published in 2016 and named by The Times as a Book of the Month. His work has also received praise from The Mail on Sunday and BBC History Magazine.
A Cambridge History graduate, James also holds a PhD in Creative Writing from the University of Nottingham. His doctoral thesis explores what historical fiction is, how it is constructed, and its objectives, responsibilities and possible future directions. He has spoken at various international conferences in the UK, Italy and the US, presenting his research not only into historical fiction but also into astronomy in the Middle Ages.
If James were stranded on a desert island, the two historical novels he would want with him are Alias Grace by Margaret Atwood and True Grit by Charles Portis.
Historical fiction subgenre specialisms
Action/adventure
Crime/mystery/thriller
Drama
Fantasy/alternate history
Horror
Literary
Historical period specialisms
Prehistory (pre-3000 BCE)
Ancient (3000 BCE–500 CE)
Medieval (500–1450)
Early modern (1450–1800)
Late modern (1800–1945)